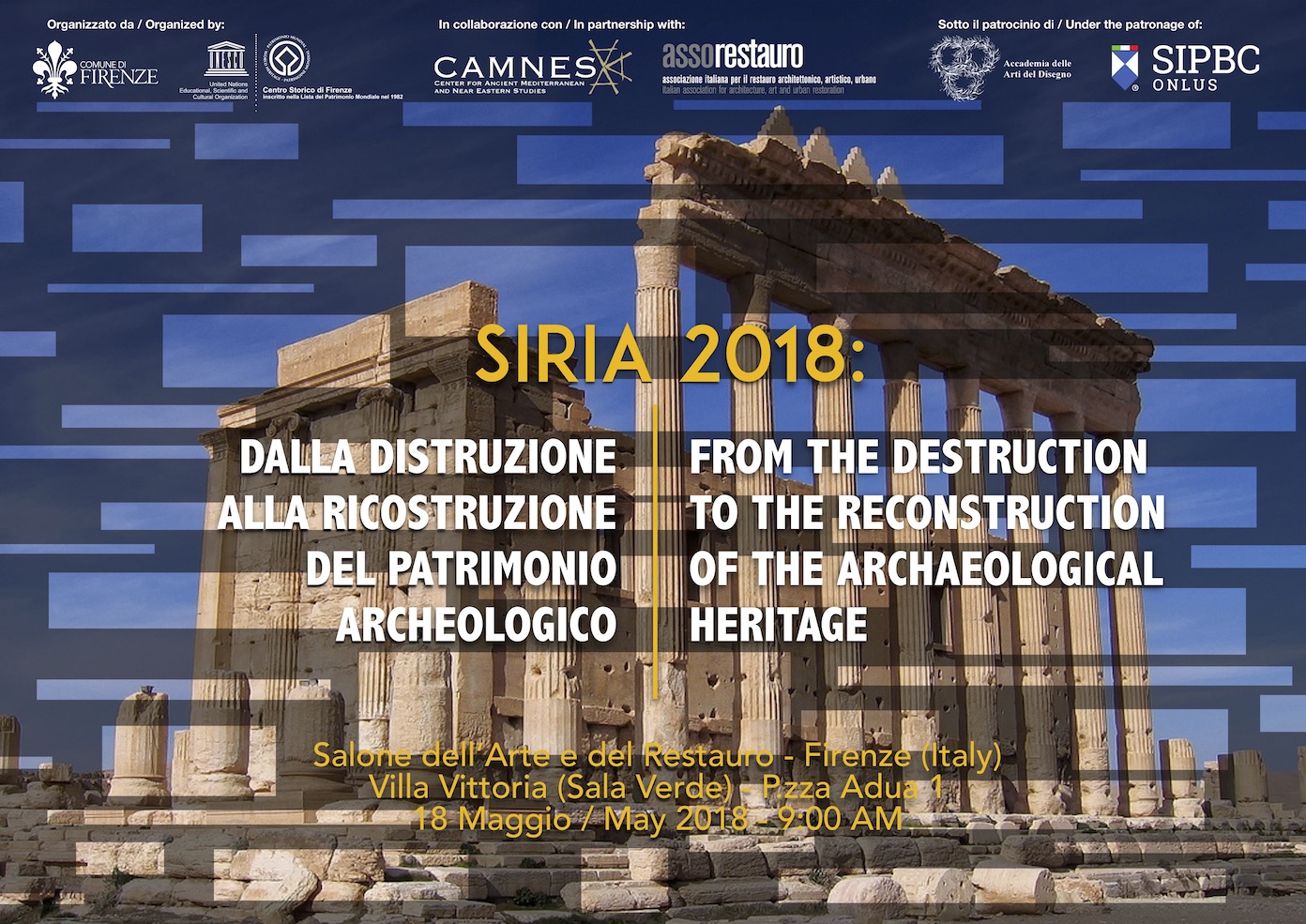 Salone dell'Arte e del Restauro - Firenze (Italy), Villa Vittoria - P.zza Adua 1 - May 2018 - 9:00 AM
:: Dowload poster
---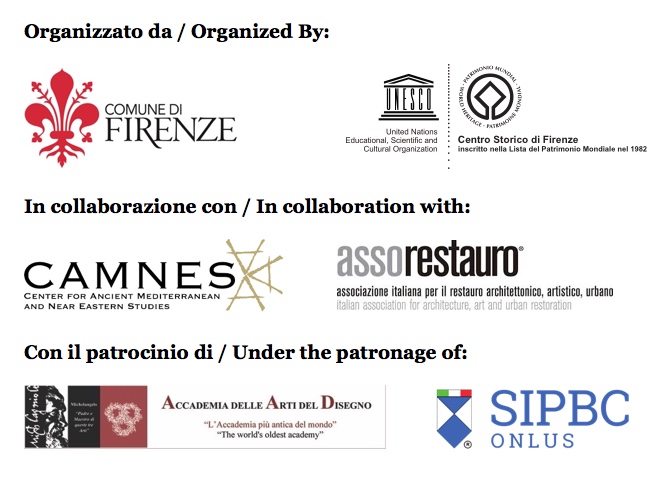 ---
#Unite4Heritage
---
Syria 2018: from the destruction to the reconstruction of the Archaeological Heritage
Salone del Restauro - Florence, May 18th 2018, 9 a.m.
In an unprecedented scenario, intentional destruction of archaeological heritage has become a strategic element in the Syrian conflict. An archaeological heritage that testifies to the history and identity of all humanity, made of places and objects of memory that had always existed, which now risks being lost forever. The enormity of these destructions requires an adequate, as conscious, response; which takes the form of reconstruction proposals shared with UNESCO by the entire international scientific community of archaeologists, architects and restorers. What was destroyed, how to rebuild the sites and restore the museum network? What role can the Italian System of Restoration play in the reconstruction, conservation, rehabilitation and enhancement of the Syrian archaeological heritage? These issues will be addressed by some of the leading experts in the field during a day of studies designed to support the UNESCO #unite4heritage campaign, which will take place in Florence (Italy), during the
Salone del Restauro
inside the International Conference Florence Heri-Tech.
---
Siria 2018: dalla distruzione alla ricostruzione del patrimonio archeologico
Salone del Restauro - Firenze, 18 maggio 2018, ore 9
In uno scenario senza precedenti le distruzioni intenzionali del patrimonio archeologico sono divenute un elemento strategico nel conflitto siriano. Un patrimonio archeologico che testimonia la storia e l'identità di tutta l'umanità, fatto di luoghi e oggetti della memoria che esistevano da sempre, rischia di essere perduto per sempre. L'enormità di queste distruzioni richiede una adeguata, quanto consapevole, risposta che si concretizzi in proposte di ricostruzione condivise con l'UNESCO da tutta la comunità scientifica internazionale degli archeologi, degli architetti e dei restauratori. Cosa è andato distrutto, come ricostruire i siti e ripristinare la rete museale? Che ruolo può svolgere il Sistema Italia del restauro nell'opera di ricostruzione, conservazione, riabilitazione e valorizzazione del patrimonio archeologico siriano? Queste tematiche saranno affrontate da alcuni dei maggiori esperti del settore in una giornata di studi pensata a sostegno della campagna UNESCO #unite4heritage, che si svolgerà a Firenze durante il Salone del Restauro e il Convegno Internazionale Florence Heri -Tech.
---
Programma preliminare/Preliminary Program:
Maamoun ABDULKARIM
Former General Director of Antiquities and Museums - Syria, Damascus University – Department of Antiquity
"Palmyra during the Syrian crises"
Cristina Menegazzi
Responsabile del progetto "Emergency Safeguarding of the Syrian Cultural Heritage", UNESCO Office, Beirut
"UNESCO actions for the preservation of Syrian cultural heritage"
Ettore Janulardo
Referente del Ministero Affari Esteri per le Missioni archeologiche italiane all'estero
"Le missioni archeologiche nel Vicino Oriente"
Paolo Matthiae
Direttore della Missione Archeologica Italiana ad Tell Mardikh, Ebla (SIRIA)
"Per la ricostruzione del patrimonio culturale della Siria: principi e criteri di una collaborazione internazionale"
Federico Buccellati
Vice-Direttore della Missione Archeologica a Tell Mozan, Urkesh (SIRIA)
"Cultura e tessuto sociale. L'archeologia di Tell Mozan come un progetto condiviso"
Nicola Salvioli
Restauratore
"La 'riproposizione' del Lamassu di Nimrud"
Cristina Acidini
Presidente dell'Accademia delle Arti del Disegno
"Resurrezioni: la nuova frontiera del restauro?"
---
:: Sito Web ufficiale / Official Website
---