---
International Conference
"Rethinking Osiris"
March 26-27, 2019
Florence (Italy)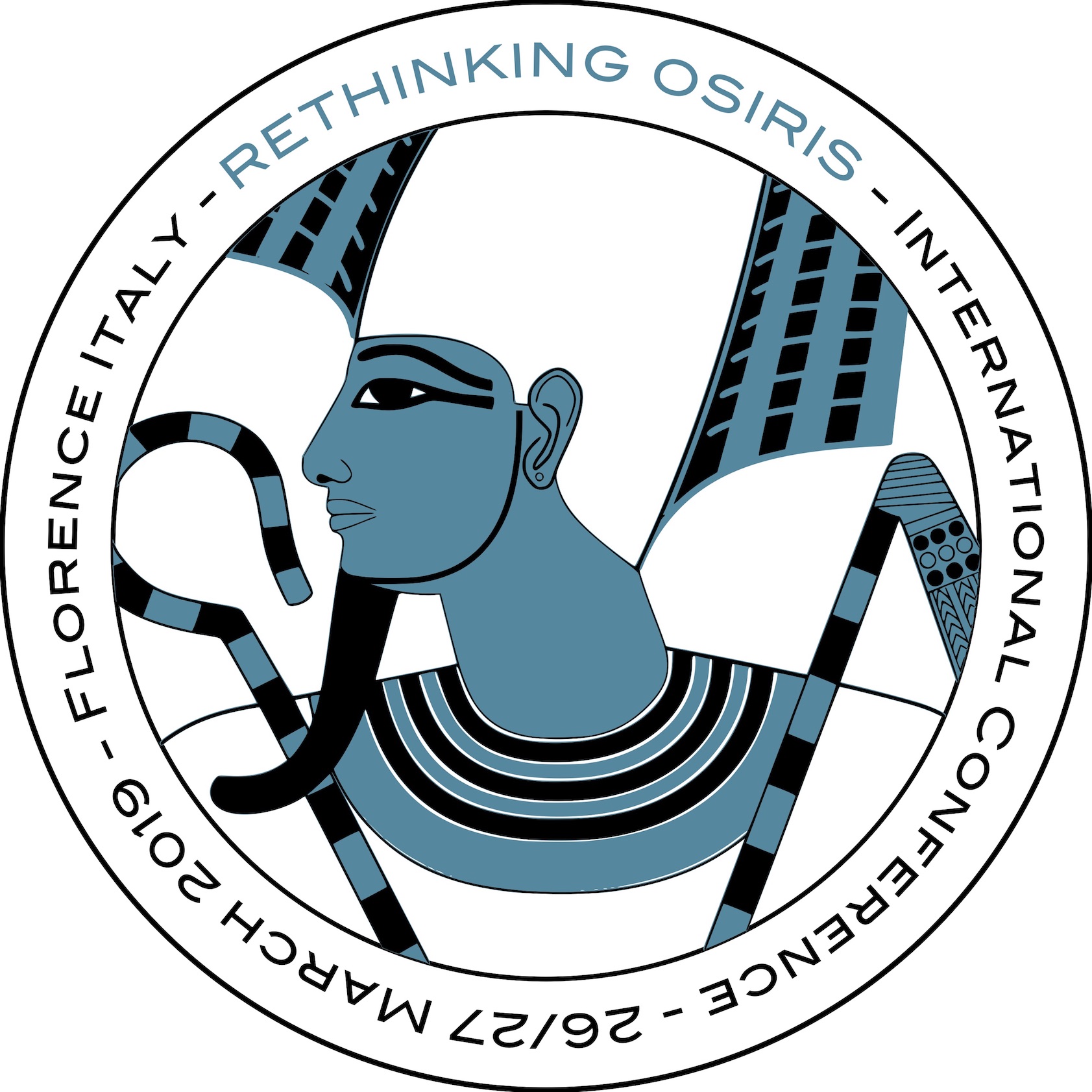 Call for Papers
---
Dear Colleagues,
On behalf of the Organizing Committee, we cordially invite all scholars belonging to various fields of scholarship and specialists of different historical and cultural areas to participate in the International Conference on Osiris on March 26-27, 2019 in Florence.

THE CONFERENCE IS ORGANIZED BY
CAMNES
(Center for Ancient Mediterranean and Near Eastern Studies)
______
The American University in Cairo
______
Polo Museale della Toscana
Museo Archeologico di Firenze
Museo Egizio di Firenze
KEYNOTE LECTURE
Mark Smith (University of Oxford)
"Following Osiris: New Perspectives for the Twenty-First Century"
SCIENTIFIC COORDINATION & ORGANIZATION (in alphabetic order)
Massimiliano Franci (CAMNES)
Salima Ikram
(American University in Cairo)
Irene Morfini (CAMNES)
MAIN TOPICS
Presentations can cover any period of Egyptian history and focus on a wide range of topics including but not limited to:

Archaeology/current fieldwork (e.g. Osiris Iconography; the tomb of Osiris vs its "replica" in the private and royal tombs; Osiris places of cult)
Language, literature and texts (e.g. History and Form of Osiris Myth; Didactic and Narrative function of Osiris literature
Its History in the relationship between Theology and Literature
Its Role as intertextual subject
Evidence for the earliest attestation of the name of the god
Orthographies and etymology of the name of Osiris
The origin of the myth of Osiris: its reconstruction, the analysis of the different episodes and their functions
Religion and society (e.g. the belief in an Osirian afterlife; from a description of Osiris based on its myth to Osiris described by the rituals
Osiris and Western Cultures
PARTICIPATION
The scholars who wish to participate must use the form below to submit a contribution proposal containing an abstract of their paper (max 300 words) by September 30, 2018.
Speakers must hold a MA degree or equivalent
Papers must be presented in English
No translation services will be available
Presentations should not exceed 30 minutes, including 10 minutes for questions and discussion
The organizing committee will select abstracts according to specific criteria such as new or original field data and innovative theoretical and methodological approaches
The acceptance of the contribution abstracts will be communicated only to the selected contributors by October 31, 2018
Abstracts of accepted papers will be published on the website by January 31, 2019
REGISTRATION
(Opens November 1st 2018)
Registration fees (must be paid after abstract acceptance and by December 31, 2018):
The fee includes:
Badge (Speakers and Listeners only)
Conference welcome kit (Speakers only)
Morning and afternoon coffee breaks on March 26-27
Lunch on March 26-27 (Speakers only)
Dinner buffet on March 26 at the Archaeological Museum in Florence with a special guided tour of the Egyptian Museum

Further details
All paper authors must register if they are planning to participate to the conference.
At least one author for each paper must register and be present during the conference.
Please note that the delegate fee does not include any lunch, travel, transportation to the workshop venue, and accommodation.
The conference venue is furnished with a caffetteria with low prices and high quality food and beverages.


PROCEEDINGS
Presented papers will be included in the proceedings of the Conference and published in a peer-reviewed volume of the CAMNES SANEM series. Indications for the proceedings guidelines will be sent to the authors after the conference. Final contributions are due by October 30 2019.

IMPORTANT DATES
Abstract submission deadline: September 30, 2018
Acceptance notification by: October 31, 2018
Registration opens: November 1, 2018
Registration and fee payment by: December 31, 2018
Publication of abstracts and final program on website by: January 31, 2019
Conference: March 26-27, 2019
Contribution for Proceedings submission deadline: October 30, 2019​
---